Burma – or Myanmar – is one of the largest countries in Southeast Asia. It lies at an historically key geographical juncture between India, China and Southeast Asia, and is slowly emerging from decades of oppressive military rule. As a country, it remains extremely attractive to geologists for two principal reasons. Firstly, it is astonishingly rich in a variety of commodities: tin, tungsten, copper, nickel, gold, silver, lead and zinc, as well as the famous jade and Mogok rubies and sapphires. It contains at least three "world-class" mineral deposits. Secondly, it is sited at the eastern end of the Mesozoic-Cenozoic India-Asian collision, immediately south of the Namcha Barwa Eastern Syntaxis, and therefore provides a key link between the Tethys suture zones to the north in Himalaya-Tibet, and those found within Southeast Asia. However, due in large part to the recent political situation, and despite sterling work by indigenous geologists and a few notable western-sponsored programmes, it remains a geologically enigmatic and little understood terrain – a geological "blank on the map". The political and economic change within Burma over the last 4 years has, however, been both profound and rapid, and while democracy remains firmly a work in progress, the slow opening up of the country has allowed Oxford scientists unprecedented access to areas that, in many cases, have not been visited by western geologists since the 1950's.
The Oxford Burma Project has one simple but broad aim: to unravel the tectonic history of the country, and link this to the genesis of the various ore deposits. We would like to answer some fundamental questions: why is Burma is so rich in natural resources, whereas the majority of the main Himalayan suture belt appears so barren? What is the relationship between the various orogenic events within Burma to those chronicled further north and further south? What exactly is the 'Jade' belt; and where exactly is the India-Asia suture within Burma?
In the last year, Mike Searle and I have participated in several field trips to various localities around the country, but most recently I made a lone visit to southern Burma to look at the tin mines operating there. Burma remains a tricky country to access and travel about – you cannot simply rock up in Rangoon, hire a car and drive to an outcrop. Much of the area outside the central plains officially requires you to be in possession of a government permit, and hiring a guide is a necessity.
The southern spine of Burma stretches down along the Andaman sea, sharing a border with Thailand, and is a malarial tropical jungle with a beautiful coastline. The Dawei (Tavoy) area is reached in about an hours flight from Rangoon (Yangon), and I flew there courtesy of one of the new breed of privately-owned local air operators in an ATP prop plane, and was pretty much the only westerner on board. Dawei is a port and the local capital, and is a pleasant, small and undeveloped town. I was met at the tiny airport by my guide, where upon registering myself with the local authorities, we jumped straight into a 4×4.
Tin-tungsten mineralization in Burma is associated with the intrusion of a series of largely Cretaceous crustal-melt granites, part of the extensive tin granite belts of Southeast Asia. Collectively, these belts have been the dominant global historical producer of tin, which was overwhelmingly sourced from fairly destructive dredging of alluvial deposits in Malaysia and Thailand. However, in Burma there are many primary deposits – including the Mawchi Mine, which pre WW2 was the world's largest tungsten producer. The SE Asian granite belts are thought to be the magmatic expression of the staged closing of Tethys. Running through Peninsula Malaysia are two granite belts representing the Late Triassic Indosinian Orogeny, and here the Palaeo Tethys suture separates subduction-related 'I-type' granites to the east from continental collision 'S-types' in the west. In Burma, however, the picture is less straightforward but the granites are generally thought to represent the closure of Neo Tethys from the Late Cretaceous onwards – indeed, unravelling the tectonic story of Burma through geochemistry and geochronology is one of our broader aims.
The Daewi region is home to over 50 historical tin and tungsten mines – although tin production stretches both further north and south, following the granite belt. Many deposits are primary, but quite a few are alluvial, and all are pretty much artisanal. The Burmese mining industry is a shadow of its former self, but there remains huge potential for careful redevelopment.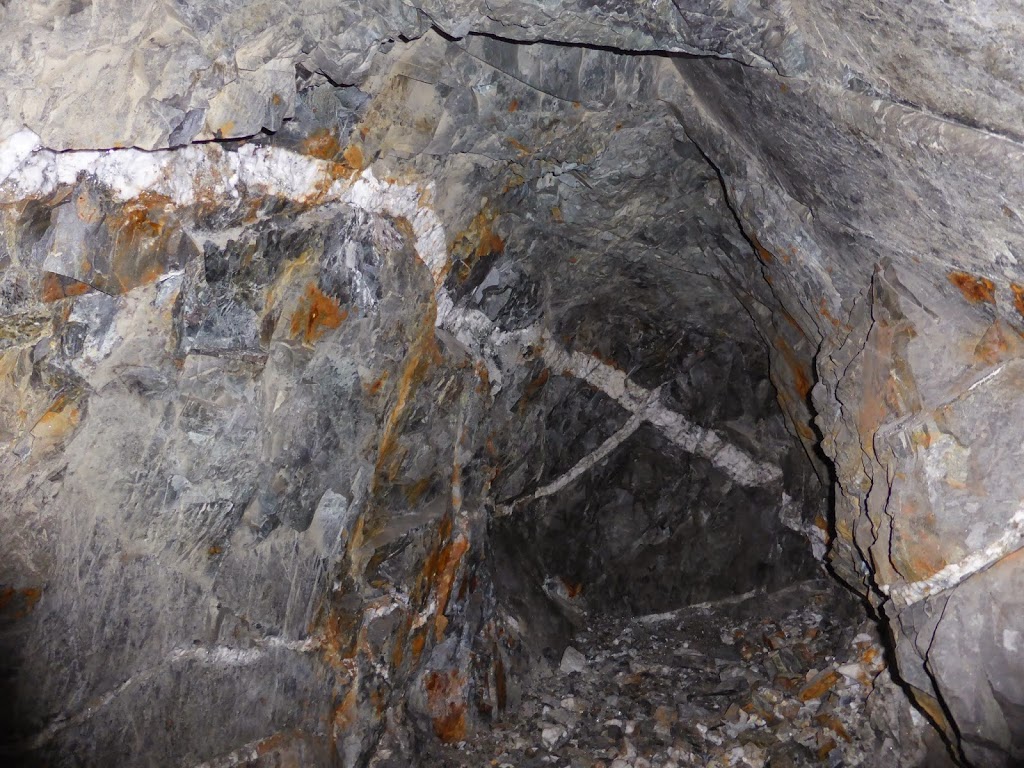 Vien mineralization in an abandoned adit
In a 4-day whistle-stop tour I was shown the Hermyingyi mine, once a major British-operated tin mine, which has planned redevelopment afoot. The Bogyoke Mine, another colonial-era mine, is now flooded underground, but has had a recent processing plant installed with the aim of producing tin concentrate from the dredging of nearby rivers. A number of other mothballed primary prospects and alluvial areas followed, all accessed on back-road or 4×4 tracks.
Getting samples out of the country is not straightforward, as your humble author knows only too well after once being stopped and searched whilst attempting to exit the country with a suitcase stuffed with granites and the odd rough sample from the Mandalay jade market. I still have some tin concentrate sitting under a desk in Rangoon – although from this trip I managed to smuggle out some granite samples which are currently the subject of geochronology. On my last day before flying out I was taken to the beautiful, unspoilt Maung Ma Kan beach, with wobbly palm trees, rustic wooden beach houses, and miles of unspoilt shoreline on the Andaman Sea. This is mainly a recreation area for locals – I saw one other non-Burmese while I was there – but I fear that in 20 years time it will be "developed".
There are huge upsides to travelling and working in Burma. Despite their oppression, the Burmese remain some of the kindest, friendliest people on the planet. While travelling around to areas less-trodden by western tourists, children and adults alike will come up to say hello ("Mingalaba"), give you a toothy grin (the degree of toothiness is usually contingent on whether they chew betel nut or not), and shake your hand, being instinctively and friendly curious. This is a profoundly Buddhist country, and wherever you travel you are greeted by the sight of a dozen golden pagodas rising above the trees, monks in red robes zooming about on the back of motorbikes; you also enjoy the sight of bullock carts travelling the wrong way down the sole dual-carriageway, which uses furlongs as a measure of distance.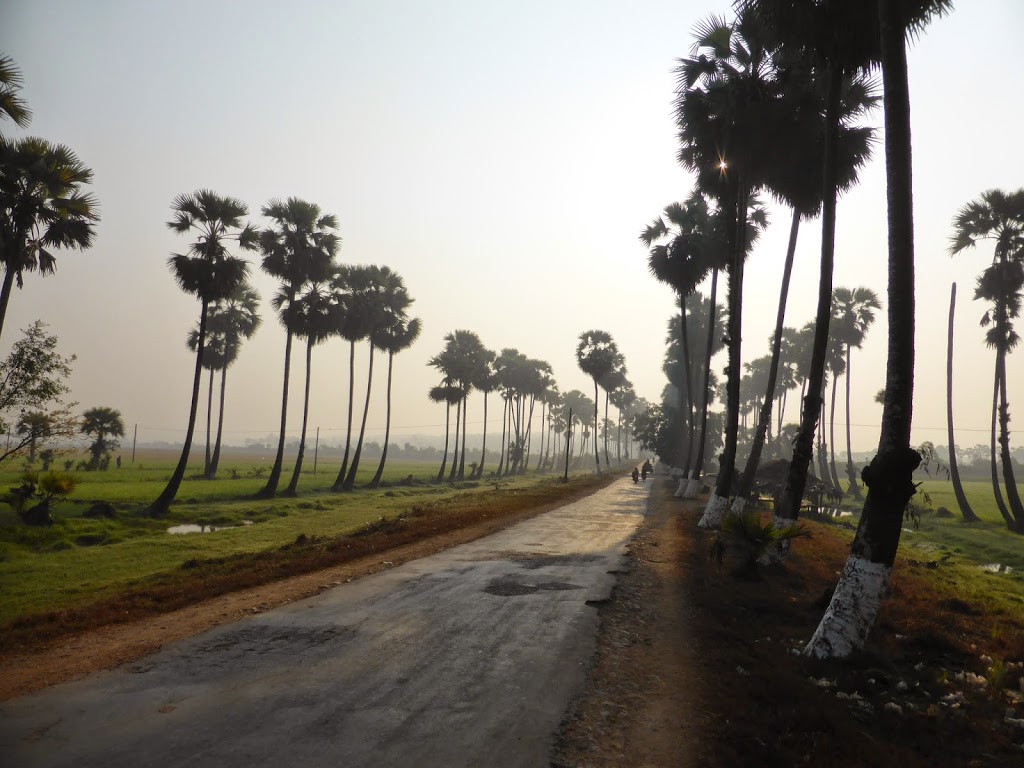 The country itself contains a variety of landscapes – the hot central plains, a patchwork of rice paddies, is usually baked to dust by late May waiting for the monsoon; idyllic, pristine beaches and a thousand wobbly waving palm trees greet you in the deep south (best observed as you paddle in the Indian Ocean). In the north, the Himalayan foothills grade from teak forests to rise to Hikabo Razi; and you can get seriously lost in the intractable jungly malarial forests in the east, host to tiger and elephant.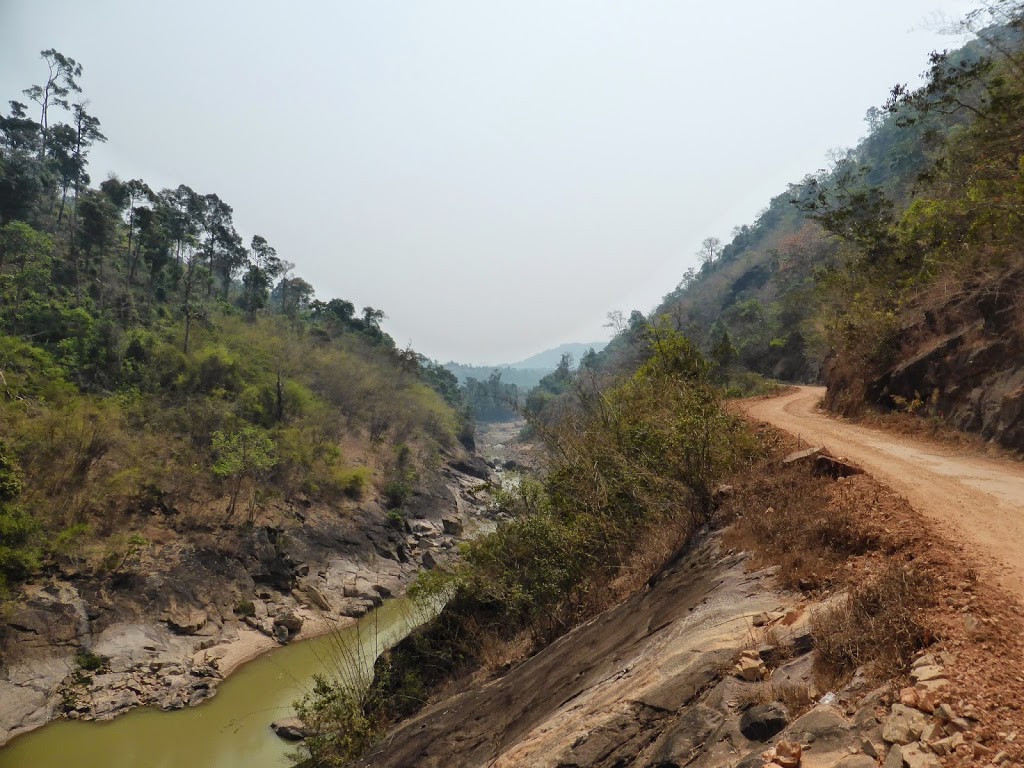 We have two more trips to Burma planned this Autumn/Winter – hopefully going further north towards the Himalayan foothills – and it will be a pleasure to return.
——-
Further details regarding Economic and Tectonic Geology at Oxford can be found on the group's home page at hardrock.earth.ox.ac.uk.